Stop Holiday Overwhelm (Tapping Script)
THISHASTOBEUPDATED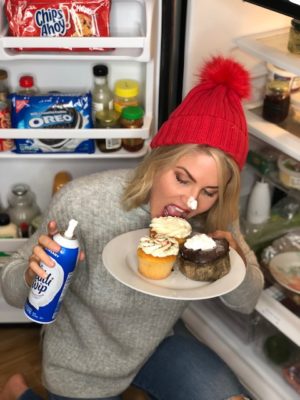 Holidays are supposed to be full of joy and cheer, but it's so easy to get totally bogged down and STRESSED OUT.
The in-laws are coming over… the house needs to be ready… the food has to be prepared… the presents need to be bought and wrapped… not to mention the shrinking bank account…
With so many things going on, it's no wonder you feel stressed. At the end of the day, you just want everything to be perfect...right?
You're not alone. The holidays can be really difficult! But you don't have to beat yourself up if everything doesn't go exactly as you planned.
As I'm sure you know, when you're stressed out and overly criticizing yourself...you eat. ;-)
So before you pull your hair out or close yourself in the bedroom closet, here's a short, simple tapping script to help you through this holiday season. 
Tapping on the karate chop point:
Even though the holidays are stressing me OUT I completely love and accept myself. Even though I am so stressed about getting everything done I love and accept myself completely. Even though I just want everything to be perfect I completely love and accept myself.
Tapping through the points:
There is SO MUCH to do. I don't even have time to tap! Every year I swear it will be different... I want to be cheery... I want to enjoy the season and my family... But I'm just so stressed out. There's so much pressure... I feel like I have to do it all... Why can't I just enjoy the holidays like everyone else? Why do I feel like a total SCROOGE? I want it to be perfect To give all the perfect gifts... And serve all the perfect dishes... And BE perfect... But I'm not. And that's OK. I am open to giving myself a break. And letting go of some of the stress.
Take a deep breath. Keep tapping...
I am living in joy this holiday season. I am choosing to sparkle with love... No matter how stressed No matter how overwhelmed No matter how stuffed with sweets... I choose to love myself. Look at me! I do so much. I give so much. I am so willing to give to everyone else... That sometimes I forget about me. I am choosing to give myself joy I am choosing to give myself love And when the stress starts to build... I choose to take a deep breath Breathe it out Smile And be grateful for all that I have All that I give And all the love that surrounds me, always.
Take a few deep breaths and with eyes closed, focus on your heart.
Imagine a bright green light glowing from it, getting bigger and brighter until it circles you in a big beautiful bubble of your own love. Sit here quietly for as long as you like.
You may repeat this script/visualization as needed throughout the season!
Sending you lots of love & cheer,
Britt xoxo
STAY UP TO DATE WITH THE LATEST TIPS & NEWS